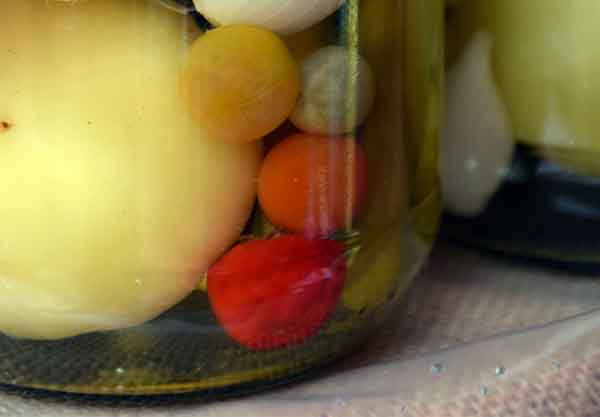 Pickles are an ideal option when choosing a snack or appetizer, combining at the same time with the lifestyle to which we have adapted to this day. Since it is usually a recipe of a fairly simple preparation, siendo también  popular for having healthy properties for your body, what is known as a probiotic, which in previous years became a trend in the implementation of a healthy diet.
Being one of the oldest techniques in the kitchen, these healthy and simple steps of food preservation with vinegar, that give a delicious flavor to your snacks. There are two ways in which this recipe is prepared, one of them is by cooking food, and the other is through the fermentation process, this time we will cook it, this method takes a little longer to be consumed, but nevertheless its preparation is simple.
We recommend this recipe as an accompaniment to a main dish, or in the form of a flag, and we know that presenting it in this way will be the favorite of your relatives, friends or guests. Don't miss this alternative recipe, full of good flavor and intensity.
Vegetable Pickle Recipe
Ingredients
1/2 kilo of baby corn
1/2 kilo of celery
1/2 kilo of carrot
1/2 kilo of onion
1 bay leaf
1 clove garlic
1/2 teaspoon of sugar
1 tablespoon of salt
1 pinch of pepper
Vinegar
Preparation of Pickled vegetables
Before starting, Remember that the utensils and even the container where the pickle is to be placed is neat and sterile, since we are going to use a fermentation process, thus, you must ensure hygiene. We will guide you through these simple steps:
You will need ½ kilo of onion, the one you are going to wash and then chop or chop into slices,

al igual que ½&nbsp

; kilo of celery, ½ kilo of carrot and a clove of garlic, slice them well or to the size you want, but as a recommendation from us, the ideal is not to cut them so small.
Then in a pot you will see half a liter of vinegar and another half liter of water,

y a esta mezcla vas a agregar 1 cucharadita de azúcar ½&nbsp

; tablespoon salt
&nbsp

;Already done this,

vas a agregar todas las verduras que has picado y como ingrediente adicional&nbsp

; ½ kilo of choclitos drink in the pot with the vinegar and water, let's let it boil for about 4 or 5 minutes, the idea is not that they are cooked, since what we want to do with this is to remove strength.
Time has passed, we have to have a jar, which must be glass, where before placing the mixture,

y&nbsp

; we will add in the jar before pouring the mixture 1 pinch of pepper and 1 a bay leaf.
Then we add all the vegetables in the jar and finally you add the vinegar liquid with the water, make sure this is done with the mixture very hot.

&nbsp

;You cover well and then you wait for me to cool, to put in the refrigerator marinating for a month.
Once you have made your pickle and after the maceration time, it is time for you to taste it, and accompany with what you like, they can be toasted, French bread, a grill of beef, has many ways of tasting.
Tips for preparing a delicious pickle of vegetables
As in this case we use a hard vegetable, As carrots are, you must boil it before even mixing it with the other ingredients., and so it should be done with another type of vegetable that is similar.
To improve the flavor of the pickle you can use spices, as are the walnut, thyme, clove, turmeric, mustard seeds, curry etc. There are many flavors that are to your liking, and they are not here written, you can add them.
Some vegetables, mushroom or fruit that you can use to make a pickle can be cucumber, to make the famous pickles, zucchini, cabbage, lemons, chilli peppers, chiles, capers, asparagus, eggplant, cauliflower, beetroot, turnips, radishes and many more, there is a great variety.
Some vegetables like cucumber should be pickled whole, however to be able to get a better texture, a little more homogeneous, it is recommended to slice the ingredients into fine pieces.
You can use any type of vinegar, but in our recommendation the apple cider is ideal, providing an excellent flavor
We recommend this recipe for those people, or if it is your case that you have a lot of vegetables in your kitchen and you feel that they are going to be damaged by not consuming them. Well, pickling helps you get out of that problem., since it can last a month in your fridge without any problem.
Nutritional contribution
Good, since we care to inform you, regarding the benefits of the food we use in our straights, we are going to take the opportunity to tell you about the benefits of consuming pickled vegetables.
This recipe contains great properties and benefits for your health, how to lose weight, both for those who are patients with diabetes.
Helps control anxiety about wanting to eat sweets, therefore it is recommended to get used to its consumption, since it has a satiating effect.
On the other hand, strengthen your immune system, having high vitamin C content, enzymes, lactic acid, folic acid, Anyway, it is a great advantage for your health. A large percentage of the immune system, is located in the intestine, and the consumption of probiotics contains a base of vegetable fiber, which helps in the maintenance of the intestinal flora, avoiding imbalances and being out of shape.
And in addition to favoring the intestine, as the immune system, people with diabetes, in helping to lose weight and control it, también un muy buen desintoxican te  for the body, tones the liver, helps prevent gas build-up.
As a recommendation for people taking antibiotics, It is ideal to consume pickles in this process as it helps to fight the bacteria of any infection.
Knowing all these benefits, what are you waiting for to implement it in your diet? But nevertheless, remember that the rest of your diet should also be healthy so that you can fully enjoy the benefits of this recipe. We wait for you in a next recipe.