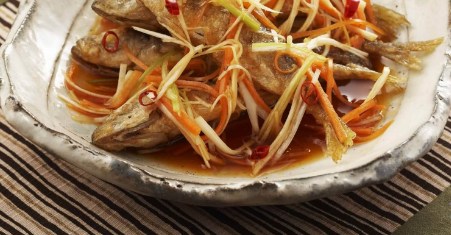 Today we bring you another special delight, that's right friends. Inspired by you and your good taste for sea dishes, we are going to take advantage of our Peruvian culture. As you already know, Peru has a large coastal area, which offers us a variety of fish and shellfish, that according to many people these are a true delight when they are accompanied by rich spices and ingredients that enhance their flavor, giving them a vibrant look by their colors, a desirable scent, and delicious taste.
Today's star fish will be the famous and delicious horse mackerel, a fish widely used by Peruvian food and preferred by many of the diners. Horse mackerel has a very firm meat, and a mild taste, while having a juicy build, so in this recipe we will combine it with the chili, being the chili pepper also one of the icons of our kitchen, It is worth saying that the food in Peru without chili would no longer be Peruvian food.
The combination of these two base ingredients, are ideal to be served in a delicious lunch and if you like, in the same way it could be adapted for a dinner. Sharing this delicious dish with friends, relatives, at the time that seems most desirable to you
And without further ado, we invite you to stay until the end of this recipe., we hope you enjoy it, we know you will like it and you will share it with your friends.
Mackerel Chili Recipe
Ingredients
½ Kg. Horse mackerel fillets
½ kg. Yellow potatoes
1 large jar of milk evaporated
2 cold French breads
30gr. Margarine or butter
6 olives of jugs boneless
3 hard-boiled eggs
1 large onion head
30 -50 gr. Ground chili pepper
0 gr. Grated Parmesan cheese
Garlic, salt and pepper to taste or seasoning.
Preparation of Ají de Jurel
Very good to start this healthy recipe, as we usually do, we are going to teach you through small steps how to make it, without many complications. You will start with the following:
You are going to need 2 cold French breads, namely, pulled from the hillside. Then in a bowl you are going to add a jar of evaporated milk, in this milk you are going to submerge the two loaves and you are going to crush them with a fork, then you let them soak for 1 or more.

Después en una sartén&nbsp

; you are going to add 30gr of margarine or butter, and you are going to chop 1 large onion head into cubes, you add ground garlic to taste, and 30-50gr of ground chili.
You wait for the onion, the garlic and chili are browned and cooked.
After the time has elapsed, you take the bread out of the milk and add it to the stew that we have prepared., adding salt and pepper to taste.
In advance without overlooking, you must have prepared ½ Kg. Horse mackerel fillets, chopped, to add it immediately to the stew, after adding the bread.
You start to remove everything, constantly watching. You leave it at a medium temperature, cook for approximately 5 to 8 minutes.
When it's ready and piping hot, you are going to add 100 gr of grated Parmesan cheese.
At the end and ready to serve, you must pit 6 olives, ½ kg of yellow potatoes should also be parboiled, in some salted water, They should not be very cooked so you should be aware. And also have 3 hard-boiled eggs ready.
You are going to chop the yellow potatoes into slices and you will place them on a plate (the amount you want) and on top you are going to add the stew with horse mackerel, several olives and a sliced ​​or crushed egg. Finishing with a sprig of cilantro on top.
Consejos para hacer un delicioso Ají de Jurel&nbsp

;
It has become a common theme, pero  remember the importance of buying fish in excellent condition, or at least make sure it's fresh, in the event that you are going to buy the complete horse mackerel. So that you get a better defined flavor and easy to work with.
If you wish, you can pass the fish through egg and flour, if you like a crisp finish and texture
You can use the cheese of your choice, but in this, try to make it a salty and firm cheese.
If you are one of those who like to add an additional fatty touch to your meals, to serve you can place a little mayonnaise or garlic sauce to accompany.
Also in the choice of fish, in our recommendations you will find mackerel, cojinova, Cod, corvina or whatever you like. If you are using a low-fat fish such as hake, There will not be any problem, it just takes less cooking time
If you have something else in mind, do not hesitate to add it, if you love cumin, you can add it. Since it will give your personal touch
Nutritional contribution
As usual, we are going to help you in the knowledge of the healthy benefits of these foods, that's how it is, have a great nutritional contribution, that we will know what will make your taste for it, intensify and continue consuming them.
As a star ingredient we have horse mackerel, it is a fairly complete fish with a high nutritional level, which has vitamins, minerals and omega 3 fatty acids, and due to its high content of fatty acids, its consumption should be moderate in those with uric acid higher than normal.
A good content of vitamin A and D has been verified
We will also focus on the substances provided by vitamin A, besides being great antioxidants, often have extremely important nutrients for vision function, growth, the reproduction, cell division and immunity.
Vitamin D is an essential nutrient for the functions of our body. It has many important functions for the correct daily development. Which we will mention below
May Help Reduce The Chance Of Heart Disease And Osteoporosis
It has great relevance for the maintenance of cognitive function. As time goes by, our body ages.
. Helps reduce stiffness or asthma complications.
 Strengthens the immune system, protecting it from any type of virus, as we see it in one we commonly know as a cold.
. Helps with calcium absorption. In addition to the important contribution of minerals, like selenium, phosphorus and potassium. Potassium is essential for the normal functioning of the body.  And at the same time it is a kind of electrolyte.